CRA and Functional Medicine is the future of healthcare, now.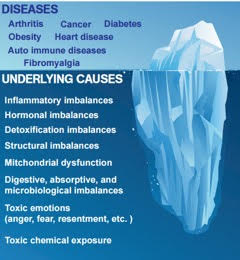 Restore your health, regain your vitality, regain your quality of life.
Functional Medicine views the body as a whole not a collection of independent organ systems that have driven specialty medicine into what it is today, an overly narrowed view. When addressing chronic health concerns, functional medicine sees the body as integrated systems functioning in harmony. The symptoms that a person may be experiencing are signs of what is going on beneath the surface. Think of chronic diseases as the tip of an iceberg and the true causes are what lies beneath, waiting to be discovered.
How About CRA?
Contact Reflex Analysis or CRA, assesses the energy connections within the body for a Health Analysis.   CRA analyzes the Energy Flows as they relate to the Organ Systems, Cells, and Glands of the body.
By testing the muscle energy indicator as a way to analyze the body and check the Energy Flows, the practitioner can determine what dysfunction priorities are causing imbalances within the patient.
The shift of the muscle response will determine whether or not there is an imbalance at the Organ contact point.
After the indication of an imbalance in that system, one can analyze if the system is running Negative, too slow ( interfered with) or Positive, too fast, (overworking) to counteract an interference or to support another system that is running too slow.
Energy imbalances within and between the Organ Systems is the cause of disease.   Balance is the Key to the Miracle that is the Human body.  Once the imbalances can be addressed, the Miracle of Healing can occur.
Imbalances not only occur as Biochemical/Nutritional, but they can also occur as Emotional and Structural as it affects our Nervous System. 
As you can see, this can be a wonderful and safe way to analyze a person that is suffering from a Health Condition but can be equally valuable to analyze someone that is trying their best to remain Healthy.
"Manage your Health, not Your Disease" is probably the best way to see CRA and how it can be the key to good health.   The body is capable of Healing itself once the imbalances can be detected and then supported.
Functional Medicine, the approach of always asking – why?
Through advances in investigative medicine, functional medicine uses the latest researched testing tools used in finding the root causes of chronic illness and then formulating a plan to restore health to those suffering from chronic conditions. By uniting doctor and patient in a partnership of true healthcare, this cooperative relationship can solve health problems much more efficiently and effectively.
Why do we need Functional Medicine?
Chronic diseases are growing at an alarming rate in our modern society and conventional medicine has fallen short in addressing them. Modern conventional medicine has advanced a great deal in methods of surgery and emergency trauma medicine, (this is known as acute care medicine), but is ill-equipped to solve chronic disease using the same model.
Functional medicine has successfully changed the point of view from symptom treatment to symptom exploration while investigating function in order to uncover root causes.
Remove, replenish, rebalance, restore.
Functional medicine can best be summed up like this: Identify what is in the way of health, remove it naturally, add what is missing or deficient to regain health, then get out of the way and let the body heal itself.
The body and it's integrated systems, a person's emotions, biochemical individuality, lifestyle, and genetics come into play for living a healthy quality of life.
CRA analyzes all aspects of the Body in a gentle and safe way.  Simple and very effective!
Patient-centered, not disease centered.
By listening to the patient client, much can be learned in way of uncovering the true causes. Through a detailed history and discovery process, it is not unusual to hear someone say, "Finally, someone listened to me!" As a functional medicine practitioner, the system survey and history are the greatest tools in investigating a chronic health condition. These are followed up by advanced testing techniques so that the body's function and its individuality can be assessed. Everyone is different and each of us requires a different plan.
Begin your own individual discovery process and get solutions today. Start here.